Lean Six Sigma Curriculum For Georgia High School Students

In the United States, institutions and high schools decide to include the option of Lean Six Sigma curriculum for high school students in their programs and select a certain group of students to take the training.
But for those that are new to Six Sigma, it will look like something unnecessary for students that are yet to decide to what college they will go to or what they will do in the future. And even if they have an idea, how can this methodology help them?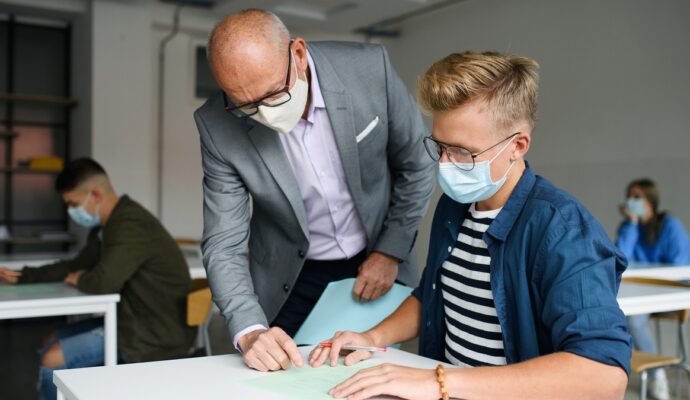 Lean 6 Sigma is a process improvement methodology that is crucial for almost every organization and company around the world due to the results it helps to achieve:
Reduce waste.

Improve productivity.

Eliminate defects and variations.

Reduce costs.

Customer satisfaction.

And many other results that boost the company's growth, processes, and credibility.
But how does this help high school students? Learning Lean 6 Sigma is more than knowing how to obtain the previous results. It is also about developing new skills, boosting confidence, and building better personalities that help the individual to have more order and opportunities on a personal level.
For this, it is not only important to be open to the option of getting high school students trained but also make sure the training program for them is designed for their situation. Part of learning 6 Sigma is the experience you gain working in a team or around it, which is something students cannot access since practice is very weird.
At Lean Six Sigma Experts of Georgia, we have built a program that includes yellow and green belt training where they will learn terminology, principles, concepts, tools, and develop new skills to have more college, career, and work opportunities. If you are considering the option to include the program in your institutions and selected group of students, we will be happy to deliver the expected results and training.
What do High School Students learn with LSS Training?
The focus continues to be the same: understand the methodology and how it is implemented in a company. The knowledge they will acquire will be the same as any other yellow and green belt training or regimen. Therefore, they will learn the basics, essentials, structure, and concepts.
A breakdown of the topics we will approach include:
The DMAIC methodology.

SIPOC.

Teamwork.

Brainstorming.

Organization.

Risk mitigation.

Problem-solving.

Customers' requirements and needs.
Our program for high school students does not include yellow and green belt training together. Instead, we have both of them separately as usual and the one the students take will depend on the level of understanding and compliance the institution or themselves want. For our yellow belt training, we have made sure to maintain the hours from 10 to 20 hours to adjust them to their courses and current classes.
While our green belt training takes between 20 to 40 hours, which is usually around 2 to 7 weeks, and the previous training from 1 to 3 weeks. Although we will teach them similar topics and elements, we will have a specific focus on some aspects depending on the belt:
Yellow belt training: we will aim for problem-solving skills, basics, concepts, terminology, data collecting, measurement, structure, and how they can be more organizations as well as how Lean 6 Sigma is implemented.
Green belt training: our experts will provide training in value stream analysis, mistake proofing, leadership, build confidence, additional Six Sigma tools, and more.
How Does Lean Six Sigma Help in A Curriculum?
---
If you know about Lean Six Sigma, even if it the most basic concepts, knowledge, and introduction, you are already valuable for a company. Since the methodology is the most used one in all industries, experts and well-versed people in it are valuable and requested to work in any type of company. For professionals, adults, and people who are already building a career, Lean 6 Sigma means more job positions, work opportunities, and career options.
For high school students, adding 6 Sigma to their curriculums will demonstrate they have specific aptitudes. Like being confident in solving problems, leading a team, working as a team but also individually, have discipline, and understand how LSS works and can help a company to improve processes and reduce waste. For college applications, this increases the opportunities to be accepted.
For career options and work opportunities, students can choose to build their professional careers around Six Sigma alone. And with this knowledge alone, they are already opting for excellent salary, great job positions, and build a personality that helps them to move forward in both personal and professional lives. This investment is one of the best things for any high school student, which is why educational institutions are considering the idea of integrating a training program for them.
How to Access Lean Six Sigma for High School Students
At Lean Six Sigma Experts of Georgia, we have an entire program ready for them. As we mentioned before, you can rely on us to teach them everything to the point where they will be able to get a yellow or green belt certification. Something we want you to keep in mind is that our Lean Six Sigma certification does not expire.
But since high school students will be lacking in practice and experience, they will need to get re-certified in certain situations unless they obtain experience without having to prove their understanding of the methodology. With that said, our program for high school students comes with two options: in-person or online. Our Lean Six Sigma online course can be taken from home or the same high schools with the necessary equipment and connection.
While our in-person option will consist of either one of our experts assisting to deliver the service or send them to our offices for the training. Regardless of the option you choose, you can access it from any city in Georgia. We have several offices and experts throughout the state that can fulfill the teacher, mentor, and coach roles when necessary. Once they complete it, they will be more organized, have developed a problem-solving personality, be confident, and have many new aptitudes and skills. 
There are so many areas or regions where we offer these services with most of them being cities.
However, if you need any of these services, you need to contact us. The list below comprises the areas where we offer these services.